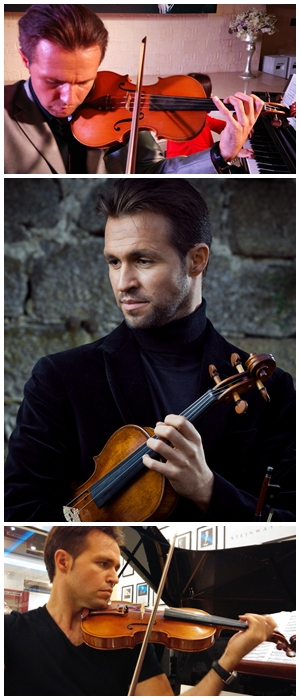 International Soloist Eliseu Silva
Eliseu Antunes Pereira Gomes da Silva, born in Oporto in September 1983, began his musical studies at the age of 5.Prize winner of many national and international violin competitions. Studied with emblematic professors rooted in the most well known schools of violin such as Doctor Max Rabinovich former student of Efrehm Zimbalist one of the most emblematic pupils of Leopold Auer; soloist Valentin Stefanov, student of Yehudi Menuhin and Henrik Szering; concertmaster of Paris Orchestra and Conductor Phillipe Aïche pupil of Christian Ferras, and the Portuguese soloist Gerardo Ribeiro pupil of Ivan Galamian.
Finished the 5th and 8th degree at the Conservatory and the bachelor and Licenciature at ESMAE in the class of Doctor Radu Unguranu, soloist of Oporto Synphonic Orchestra Casa da Musica. with the highest score. He was invited by professor Uwe-Martin Heiberg, member of Brahms String quartet, to be part of his class at HOCHSCHULE FUR MUSIK HANNS EISLER BERLIN.
Was the first portuguese violinist to be a member of the GUSTAV MAHLER JUGEND ORCHESTER(GMJO), for a tour in Europe and Japan with the maestro Pierre Boulez. Made master classes with the well known violinist such as Zahar Bron, Maxim Vengerov, Latica Honda Rosemberg, Vadim Brodsky, Eduard Grach, Sergey Kravchenko, Mikhail Berzverhny among others.
Currently, he's a PhD student at the Évora University in Musicology, Performance and Interpretation. He is a Maestro and musical Director in the Oporto Youth Orchestra of Bonjóia involving the private Conservatory of Silva Monteiro, the Porto City Council, the Ministry of Education and two corporations (BPI and Bial). He played as Soloist with many Portuguese orchestras conducted by many international conducters,such as Ernst Schelle, Antonio Saiote and played in the biggest and important halls of Portugal including the Portuguese Parlment.
With the Lusitanae Ensemble is currently recording an album with Amália and Carlos Paredes, Fado pieces revisited by professional composers and students from ESMAE composed specifically for the string ensemble. Set for release in November 2014.